iQOO 12 is going to be a power-packed smartphone for heavy gaming. Check out the exciting features of this phone along with its launch date here.
iQOO a subsidiary company of Vivo is well known for its performance-centric phones. Their phones are more targeted towards Gamers who need high performance at very affordable rates. Last year iQOO launched the iQOO 11 smartphone in the premium mid-range price bracket with a high-end flagship processor and now they are coming up with its successor.
iQOO is preparing to launch the iQOO 12 smartphone and before any official declaration of the launch date and the battery specifications. So let's check out everything one by one.
iQOO 12 Series Launch Date (Leaked)
According to one of the Weibo Tipster iQOO 12 series smartphones, the iQOO 12 and iQOO 12 Pro are going to be launched in China on the 7th of November month. Then the company will launch this phone in India as well as in the global markets. There is nothing confirmed by the company but if this leaked date is true then the company will start releasing teasers for this phone very shortly.
iQOO 12 Series Battery Details (Leaked)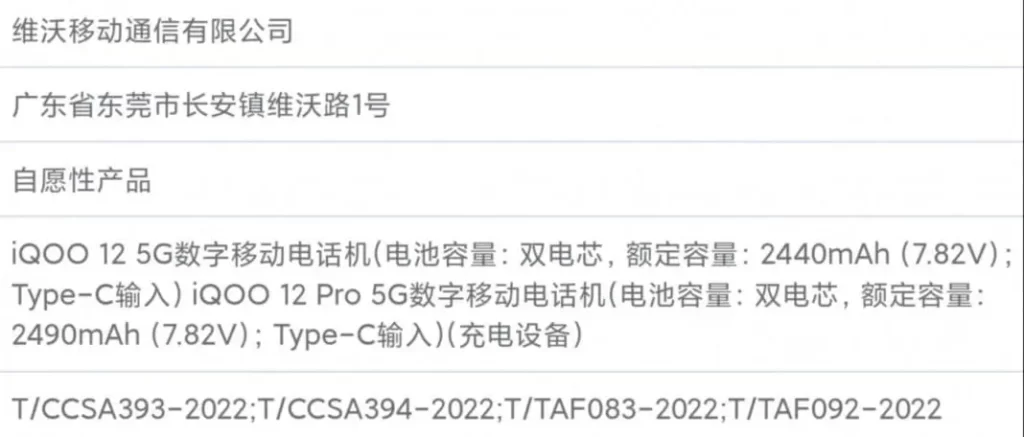 The above-given image is of the UFSC Listing of this iQOO 12 smartphone. The listing confirms that the upcoming iQOO 12 5G will have a dual 2440mAh battery and the iQOO 12 Pro 5G will have a dual 2490mAh battery. This means the iQOO 12 5G will have a 4880mAh total battery size and the higher iQOO 12 Pro 5G model will have a 4980mAh total battery size.
Both the phones will have 120W wired fast charging support but on the other hand, the pro model iQOO 12 Pro will also feature 50W wireless charging support. Now let's see the previously leaked specifications of the iQOO 12 Pro Smartphone.
iQOO 12 Pro Specifications (Leaked)
Performance: This is the main highlight of this phone. The phone is going be powered by the upcoming top-level processor Qualcomm Snapdragon 8 Gen 3 coupled with the fastest 16GB of LPDDR5x RAM and 1TB of UFS 4.0 Storage.
Display: The phone is also said to come with an immersive 2K resolution E7 AMOLED display which will have a 144Hz super fast refresh rate and 3D Curved design.
Battery: The battery backup and charging area is also going to be excellent with a 4980mAh battery supported by a 120W blazing fast wired charging and 50W fast wireless charging support.
Camera: The exact camera lens details are not leaked but it is said that the phone will come with the triple camera setup. The cameras are going to be of flagship grade and one of the lenses is expected to be the periscope telephoto sensor.
Software: The phone will come pre-installed with the Origin OS 4.0 iQOO's custom skin which will be made on the top of the Android 13 operating system.
Build: As this phone is going to be of flagship level then we can say that it will come with the glass or leather back and the Aluminium frames.
So this is all for now. Other than that, If you have any queries or feedback then comment below. Stay tuned by joining our Telegram Group or WhatsApp Group and you can also follow us on Google News for more updates about new Smartphone/Tablet Launches, Leaks & First Looks. Thanks for visiting, see you soon.
Web Stories