Is Motorola Edge 40 a true flagship killer smartphone under ₹30,000? Here are some Good and Bad that you must know before buying this phone.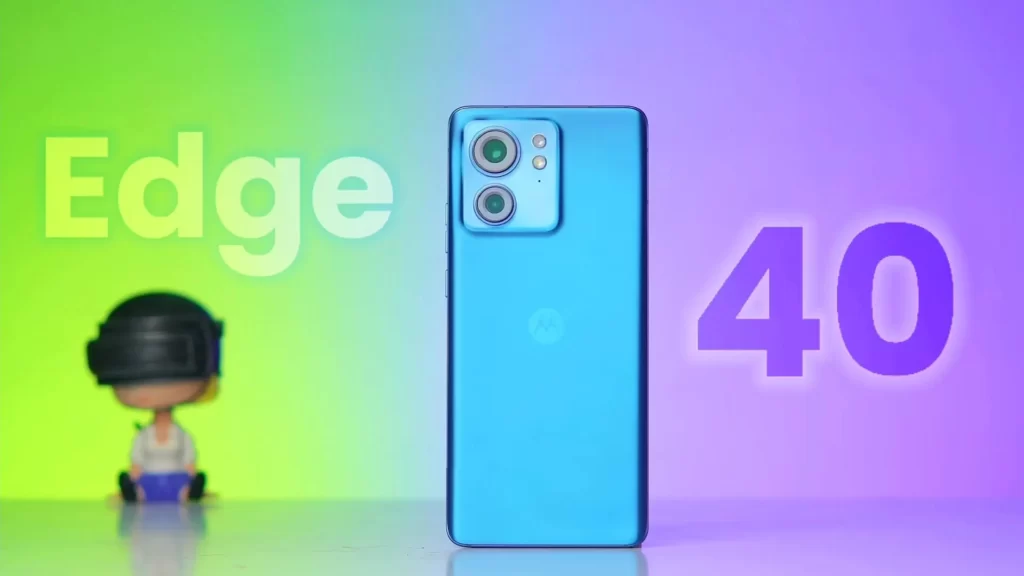 Motorola Motorola Motorola, I am pleased with Motorola. Why? Because they are genuinely launching great phones nowadays. Recently they launched their Edge series smartphone Motorola Edge 40 5G, in the Indian market. The previous year the Motorola Edge 30 was launched with very nice features, and now its successor Moto Edge 40, is a major upgrade.
There are so many big claims having prepositions like segment's first or world's first the company has done with this phone. So in this article, I will give an In-Depth review of the Motorola Edge 40 5G smartphone and see what Good and Bad this phone brings with itself. So without wasting any time, let's jump into the article.
Motorola Edge 40 Key Specifications
Before jumping to the review, let's look at the key specs of Motorola Edge 40.
Immersive 6.55-inches 144Hz 3D Curved pOLED Display
World's First MediaTek Dimensity 8020 Processor
World's Slimmest Design
4400mAh Battery with 68W Turbo Charging
50MP Dual Camera Setup with OIS
Segment's First IP68 Rating Certified
Motorola Edge 40 Price In India
Motorola has launched this Motorola Edge 40 at a very aggressive price in India. There is only one variant available which is 8GB RAM and 256GB Storage, and that costs you ₹29,999, but there if you preorder this phone on Flipkart, you will get an extra ₹2000 off, and the effective price will become ₹27,999 only. With that pricing, this is a great value-for-money phone. Why am I saying this? Let's see in this full review.
Also Read: 5 Best Motorola Phone Under 20000 In India (2023)
Motorola Edge 40 Review
Now coming to the review of this Moto Edge 40. In this review, I will talk about each and every aspect of this phone one by one, so let's start with the Build of this phone.
Build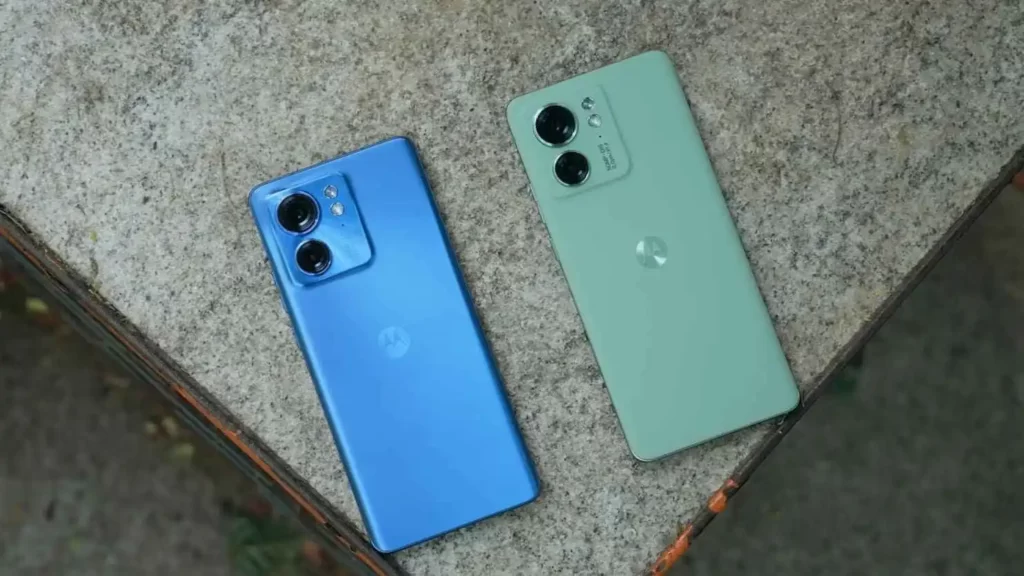 Motorola says this Edge 40 is the Most Flamboyant Design phone, which is 100% true because it feels wow whenever you take it out of the box and hold it in your hand. The look and feel of this phone are very luxurious because the phone has Aluminium Frame and Vegan Leather or Plastic Back, according to the variant. The phone comes in three color options Nebula Green, Eclipse Black, and Lunar Blue. The Nebula Green and Eclipse Black variants come with Vegan Leather, and the Lunar Blue variant comes with the PMMA material.
Both materials feel very nice on the hand, but I like the leather finish more because the phone doesn't feel slippery and gives the feel of high-end flagship phones. As this is the slimmest and lightest phone, the PMMA variant has a 7.49mm thickness and 168 grams weight, while the Vegan leather variant has a 7.58mm thickness and 173 grams weight, but that difference is negligible. When I hold the phone in my hand, it feels like a feather. It is so lightweight and comfortable in the hands as well as in a pocket.
If we talk about the physical looks, at the back side, there is a dual camera cutout placed within the back panel, making a unibody design. The camera cutout is having a little bit of a bump making the phone wobble on the table but other than that, there is no issue on the backside. A punch-hole style 3D curved display is fixed on the front side, with very thin bezels making the phone look modern. I believe the Build and Design are top-notch in the 30K price segment.
Display
Coming to the Display department, a 6.55-inch Full HD+ pOLED 3D Curved Display is given, which contains 1200 nits peak brightness and 144Hz super fast refresh, the first time in its segment. The curved Display is very vibrant and produces beautiful colors with deep blacks. The chin around the Display is also very small; we can say it is non-existent. The Display comes with the HDR10+ certification to consume HDR content on Youtube and Netflix. If you binge-consume Netflix and Youtube, this phone is the best choice for you.
One thing about the refresh rate I don't like is that the phone provides 120Hz highest, not 144Hz in auto-refresh rate mode. If you want to use a 144Hz refresh rate, then you have to set it in the settings of the phone, and after that, you will get static 144Hz output, not a variable that will definitely consume more battery.
Other than that, there is no problem with the Display. If you are fond of Netflix and Youtube, then this Display will be the best for you. It will give an immersive experience while watching videos or movies. This is one of the best displays in the 30K price segment.
Performance
Performance is a crucial part of any smartphone, and this Motorola Edge 40 also has good performance. This phone houses the world's first MediaTek Dimensity 8020 5G chipset, fabricated based n the 6nm architecture making the phone more power efficient. This processor is anchored with 8GB LPDDR4X RAM and 256GB UFS 3.1 Storage, so the read & write speed of the phone will be better.
If we look at the AnTuTu Score of this Moto Edge 40, it comes nearer to 6,85,000, which is very respectable in its price range. On the Geekbench Single core test, the phone scored 1101, and in the Multi-core test, it scored 3590 points, while in 3DMark Wildlife Stress Test, I got the GPU stability over 91%, and the phone didn't get too hot or lost too much battery life as well.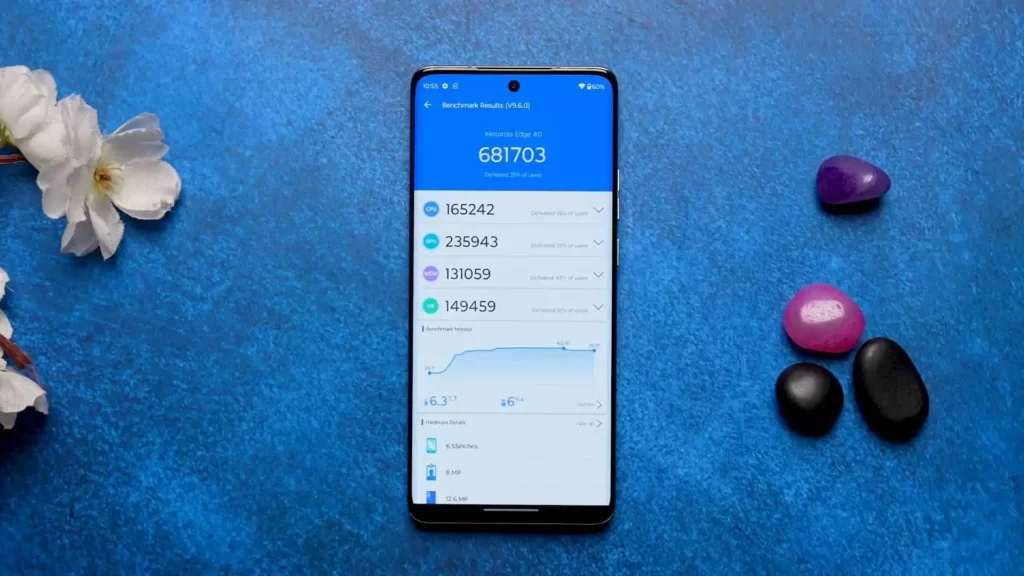 When I did heavy day-to-day tasks and played casual games on this phone, it didn't catch any heat because it features a hyper crystal graphite cooling chamber that helps cool down the phone and works well. One thing that I have noticed is that whenever we have played heavy games like BGMI or Call Of Duty, the phone gets slightly warmer after the 30-40min of playback, and the frame rate also starts dropping. So for casual gaming, it is ok, but for hardcore gaming, this phone might not be suitable.
So if you are not a hardcore gamer and not playing games for a long time, then you will be fine in terms of performance. This phone is more than enough for heavy day-to-day usage and casual gaming tasks.
Battery & Charging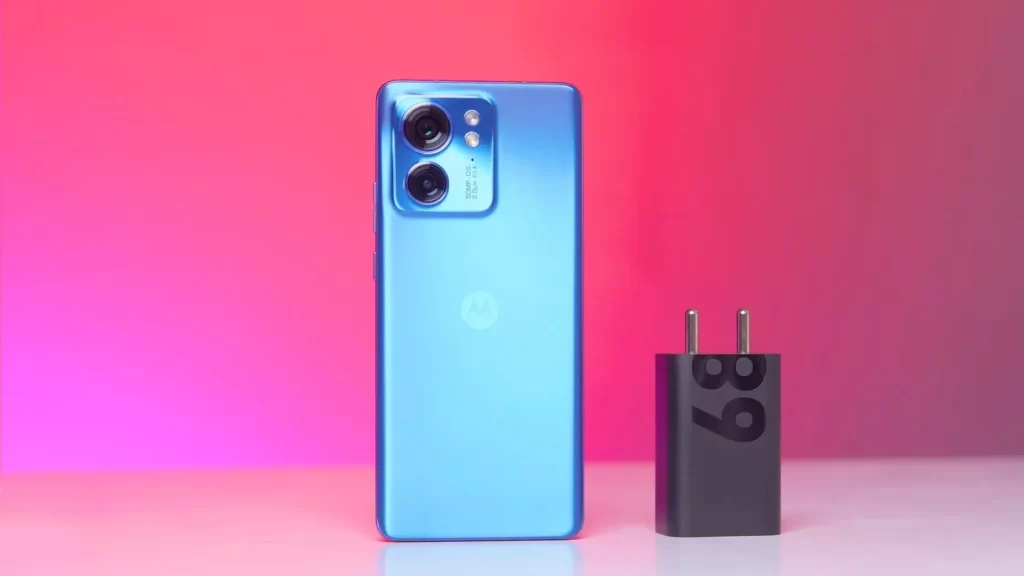 As I said, this is a very slim smartphone, and to make that much slim, there must be some sacrifices, and the Battery department is one of them. The Moto Edge 40 sports a 4400mAh battery, which I know is much less than the competitor phones' 5000mAh battery. If you are using this phone for normal tasks, then this phone lasts for a whole day, but whenever you do heavy tasks or gaming, then this phone gives the screen on time of 6-7 hours.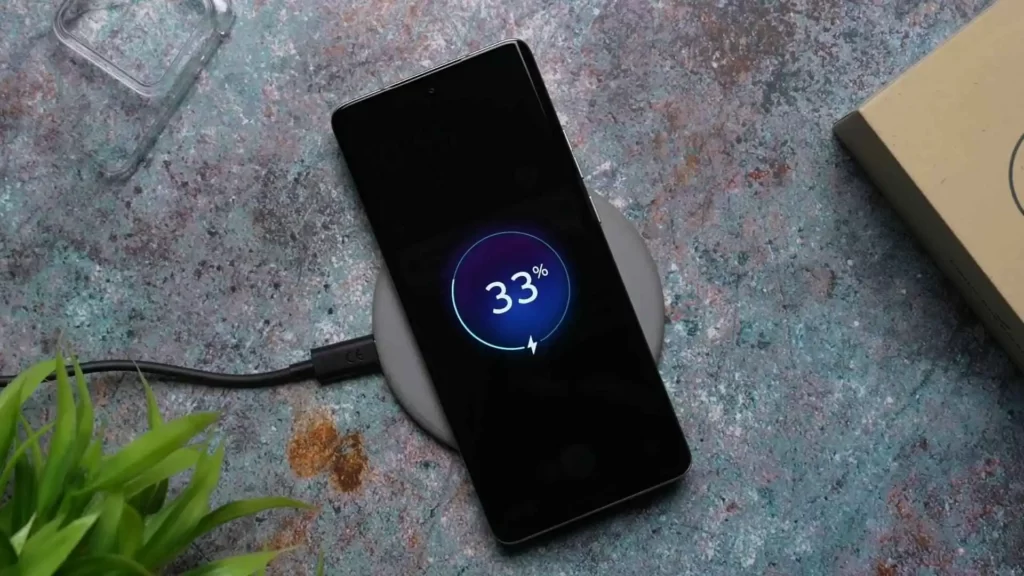 When you fully charge this phone, it will last a day with moderate usage and give 5-6 hours of Screen On Time with heavy usage. But the good thing is that to overcome this battery capacity issue, a 68W turbocharger is given in the box, which will charge the phone 50% in 18mins and 100% in only 40mins so that you can get back to your work. Moreover, this phone also comes with 15W wireless charging, which is outstanding. This feature comes only in flagship phones, but Motorola is giving it in under 30K phones which is great. Overall the balance of battery and charging speed is quite good.
Camera
In the camera department of Motorola Edge 40, Motorola has done a good thing by removing useless 2MP depth and macro sensors and providing a functional Dual rear camera setup of a 50MP primary sensor + 8MP ultra-wide sensor, which also doubles up as a depth and macro sensor. On the front side, a 32MP selfie shooter camera is provided.
A 50MP main sensor comes with the widest f/1.4, the widest aperture available in the smartphone. The camera sensor clicks good photos in normal lighting conditions with enough sharpness and dynamic range. I notice that it oversaturates the colors, especially the Greens of leaves and Blues of the sky, but it looks cool if you like a bit of colorful and social-media-ready photos. On the other hand, if you like more natural photos, this phone is not for you.
Having the widest aperture brings the benefit of low-light photography. This Motorola Edge 40 performs commendably in low-light conditions. Because of the widest aperture, the sensor becomes able to gather more light and gives brighter photos at night. But still, photos come on a softer side, and the phone cannot click better photos if there is a very dark condition. There must be a little light to click very nice photos.
The selfie camera clicks decent photos in normal lighting conditions, but the problem is that it makes the human face whiter and does not keep it natural. Another problem is that if the light source is at the back of your face and you click the selfie, then this selfie sensor cannot control the exposure; it washouts the details and colors. The selfie camera is average in functioning. In videography, the phone can shoot a maximum of 4K 30fps on front and rear cameras and video quality is very good.
If we look at the camera app, then it is very feature-rich. One of the interesting features is horizon lock, in which when you lock the position or angle of the object and then rotate your phone at any angle, the video will be recorded at the locked position or angle. There are also normal features like portrait mode, panorama mode, pro mode, depth and macro mode, etc. The camera app experience is very nice.
Motorola has done more improvements in the cameras of Moto Edge 40 than its predecessor, but Motorola still needs too much optimization of their cameras. In my opinion, If you want the best camera phone, then Moto Edge 40 is not suitable for you. Other than that, for normal photos, this phone is ok.
Multimedia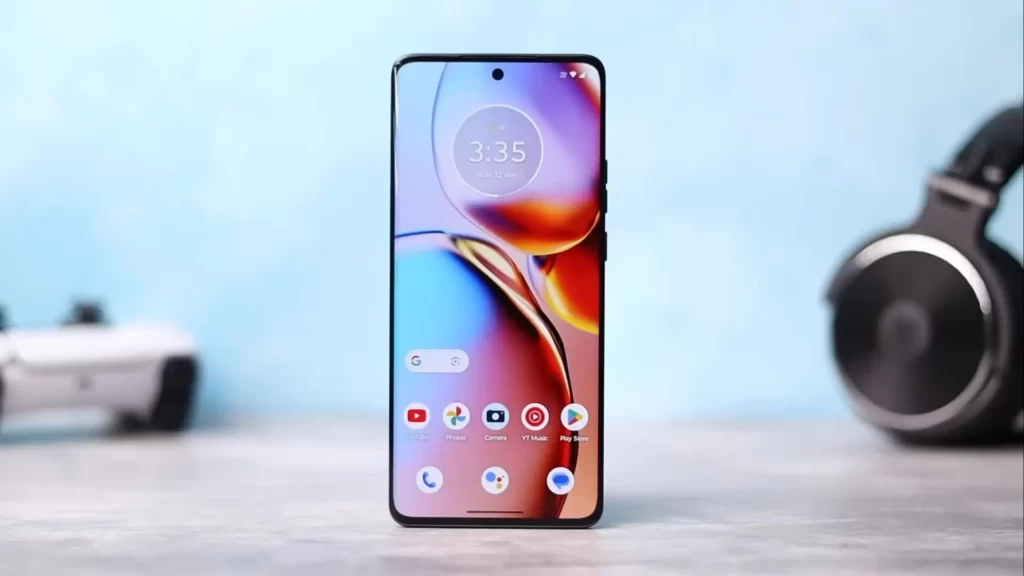 Generally, Motorola phones give a good multimedia experience because of their pOLED screen and dual stereo speakers, and this phone is no different. This Motorola Edge 40 also comes with a beautiful 144Hz smooth pOLED display and Dual stereo speakers, which are Dolby Atmos tune. The loudness and sound quality are perfect. So in the audio department, you will not have any issues. A small thing you should remember is that this phone does not have a 3.5mm Jack. If you are fond of wired earphones like me, this phone will not have any plug-in ports. You must need to use Bluetooth earphones or headphones.
Besides, the Moto Edge 40 supports HDR, so you can consume HDR content on Youtube and Netflix. I have checked that Youtube is showing HDR support, but Netflix currently does not show HDR support; it will be fixed through updates later on. The phone is also Widevine L1 certified, which means you can stream videos and movies in Full Hd resolution on OTT apps like Netflix, Disney+ Hotstar, and Amazon Prime.
So if you are a binge user who consumes more content on a smartphone and your priority is multimedia, Motorola Edge 40 is the greater phone.
OS & UI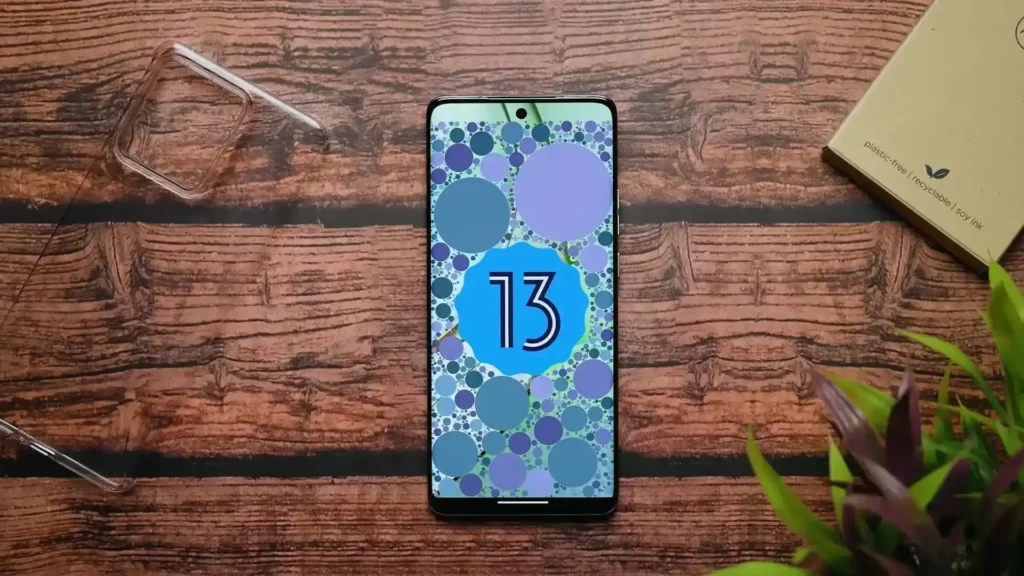 This is the department where the Motorola phones stand out in the crowd. They provide a nearly stock Android experience, and this phone is no different. The Motorola Edge 40 also has a clean UI based on the latest Android 13 out of the box and contains no bloatware apps or advertisements. Because of this stock Android UI, the phone feels so smooth and eye-pleasing. Motorola has promised 2 Years of Major OS and 3 Years of security updates, which is good.
To improvise the functionalities of OS, Motorola's features are also there. So many customization options are available for the app icons and UI layout. Two of those features are ReadyFor, which is used to connect your phone to the PC or TV and use with it, and another one is Moto Secure which provides security features to the phone. The Moto Secure has features like a secure folder section where you can add your apps and apply passwords to them, a red or green dot comes near the Wi-Fi connection to showcase how secure that connection is, etc.
Other than that, Native Moto Gestures are also available, like chop-chop motion to turn on Flashlight, Twist motion to launch the camera app, multi-window for multitasking, etc., and no doubt these features are very useful in day-to-day life. Motorola has also used a good quality vibration motor for the haptic feedback, and I like it while I am using it.
All are top-of-the-line in this OS & UI department, but one annoying thing is that Motorola gives late updates. If they fix this issue, then that will be great. If you are ok with late updates, then definitely go for the OS & UI of this Moto Edge 40.
Network & Connectivity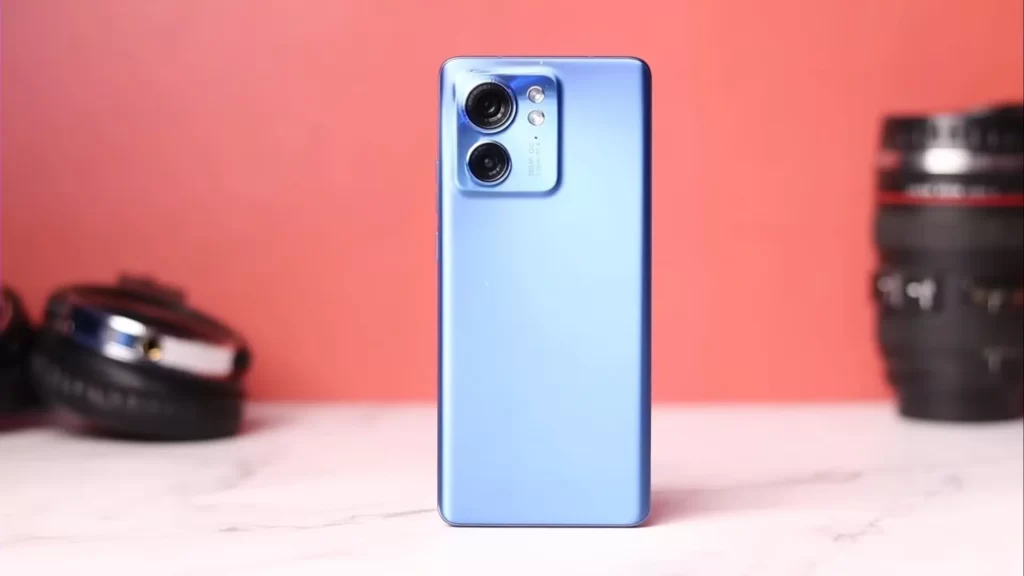 In Network and Connectivity area, this phone is all set. Firstly it is a 5G phone, and it has given 14 5G Bands so that you will not have any problem if you go anywhere. This phone contains the latest Wi-Fi 6, Bluetooth 5.2, Dual 4G VoLTE, and NFC. So in wireless connectivity, you will not have any issues.
One thing that is new in this price segment that this Moto Edge 40 brings is eSIM support. This phone comes with dual SIM support, but you can insert only one physical SIM card and secondary, you have to use eSIM. This feature is good, but it could not be useful to many people because the users of the under 30K price segment don't use or are aware of this eSIM technology. Other than that, all the things are perfect.
Sensors
In terms of sensors, this Moto Edge 40 comes with all the sensors. This phone has an In-Display Fingerprint Sensor, Proximity Sensor, Accelerometer Sensor, Ambient Light Sensor, SAR Sensor, Sensor Hub, and E-Compass. I have tested all the sensors, and they are working well without any issues.
Service
This is the most important part where most people are not giving attention. If everything is best in the phone, but the after-sell service is not good, then everything goes down. If you face any issues after buying a new phone, you must need good service, and Motorola has an interesting service policy.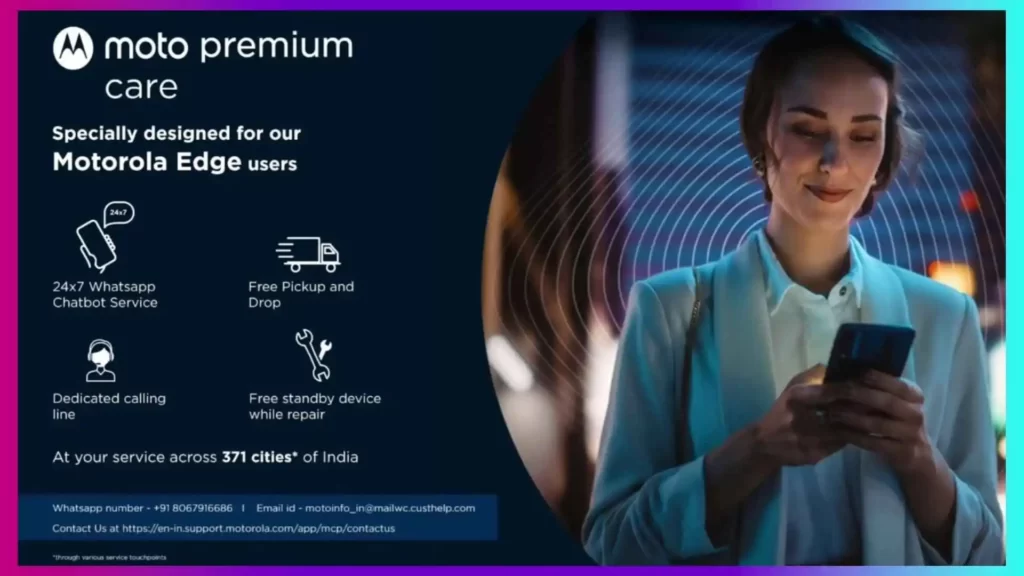 Motorola provides Moto Premium Care service specially designed for the Edge smartphone users. In this service, if something goes wrong with your phone, you will get a doorstep service. No need to go to the service center. Besides, there are other good things you will get with this service:
24×7 Whatsapp chatbot service
Free pickup and drop of your device from your location
Dedicated calling line
Free standby device while the repair of your main device
Moreover, Motorola also has service centers in more than 371 cities in India. So, in short, you will not face any issues in terms of after sell service of the phone.
Motorola Edge 40 Pros & Cons
| Pros | Cons |
| --- | --- |
| Immersive 144Hz pOLED curved display | 4400mAh small battery |
| Slimmest luxurious design | Not suitable For heavy gaming |
| New MediaTek Dimensity 8020 5G chipset | Selfie is not good enough |
| Slimmest Luxurious Design | Becomes slightly warmer in heavy gaming |
| 50MP main camera with widest aperture | |
| IP68 rating | |
| Clean stock Android experience | |
Also read: Most Detailed Mobile Buying Guide Of 2023
FAQs
Is Motorola Edge 40 Worth Buying?
If you want a balanced smartphone and not for heavy gaming, the Motorola Edge 40 is worth buying.
Is Motorola Edge 40 Available Offline?
Yes, you can buy this Moto Edge 40 in your nearest offline store.
What Is The Motorola Edge 40 price in India?
Motorola Edge 40 comes in only one variant, 8GB RAM and 128GB Storage which cost ₹29,999.
What Is The Motorola Edge 40 Antutu Score?
Moto Edge 40 brings AnTuTu Score nearer to 6,85,000.
Does Motorola Edge 40 Have Gorilla Glass?
No, Motorola Edge 40 does not have Gorilla Glass Protection. This phone comes with NEG Glass Protection.
Web Stories