Is LAVA Blaze 2 5G the most Powerful and Premium-Looking smartphone under ₹10,000? You must know some Good and Bad before buying this phone.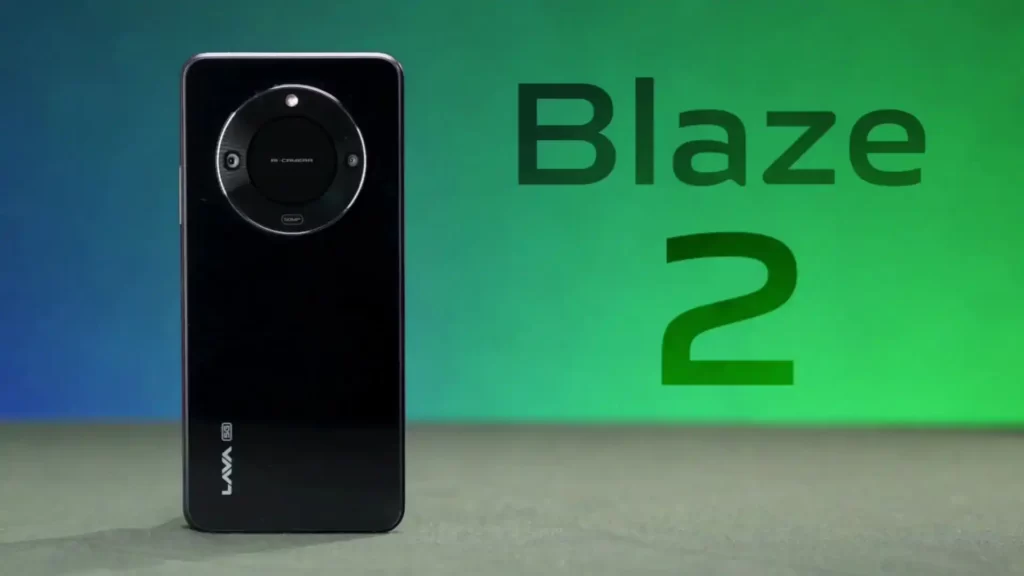 Almost the whole smartphone market is cluttered with so many phones by out-of-India country companies. But at the same time, one company is there which is completely made in India and launching very good smartphones, I'm talking about the LAVA. LAVA is an Indian smartphone brand that launches budget as well as midrange segment phones. Taking from the last year they have launched very value-for-money mobile phones like LAVA Blaze 5G and LAVA Agni 2 5G. Even they are the first to launch the cheapest 5G phone under 10K in India which is the LAVA Blaze 5G and now they have come up with its successor LAVA Blaze 2 5G.
LAVA Blaze 2 is one of the cheapest 5G phones which costs less than ₹10,000 and provides premium features that are not there even in 20K phones. It comes with a Glass Back which is not normal at this price, It has a first in segment Ring Light on the back, and the most important thing is it has all the 5G bands supported in India, Isn't it amazing? And by knowing these specs if you get interested in this phone or you are going to buy it then stay connected. In this article, I will give a full review of the LAVA Blaze 2 5G, including its Pros and Cons. So without wasting any time let's get started.
LAVA Blaze 2 5G Key Specifications
Let's see its key specifications to get an idea of what this phone brings with itself.
Very Capable MediaTek Dimensity 6020 Chipset
Big 6.56-inches HD+ 90Hz IPS LCD Display
Segment's First Ring Light
Premium Glass Back Design
5000mAh Battery with 18W Fast Charging Support
50MP Dual Rear Camera Setup
IP52 Dust and Splash Resistance Rating
LAVA Blaze 2 5G Price In India
This LAVA Blaze 2 5G is the successor of the LAVA Blaze 5G but they have not increased the price of it. The LAVA Blaze 2 5G comes in two different variants, one is 4GB RAM + 64GB Storage that costs ₹9,999, and the second is 6GB RAM + 128GB Storage that costs you ₹10,999. At this price, this becomes one of the most affordable 5G phones in India. Now we have to see what features it has and how worth it is to buy. So let's jump into the full review of this LAVA Blaze 2 5G.
Also Read: Best 5G Phone Under 15000 In India (November 2023)
LAVA Blaze 2 5G Review
In this in-depth review, I will talk about every aspect of this phone, so don't skip anything and first, let's start with the build of this phone.
Build
LAVA has really worked on the design department of this phone. When you see or hold this phone for the first time you will say that this is a 15-20K priced smartphone. This phone is priced under 10K but it brings Glass Back, which is not available even in a 15K phones. The phone has a boxy design with flat sides, giving a very comfortable grip on the hand. If we talk about the dimensions then the phone is 164.2mm long, 76mm wide, 8.45mm thick, and 203 grams heavy. Because of a glass body, you will feel the phone a little bit heavy and dense phone.
Looking at the design, the back panel has now completely changed. Last time a small left-aligned rectangular camera module was given but this time a large center-aligned circular camera module was given along with the Ring LED light. The outer ring of the camera module has two cameras and one small LED Flash while the inner circular portion of the camera module contains AI_CAMERA branding. The phone is available in three colors, Glass Black, Glass Blue, and Glass Lavender. My personal favorite is Glass Black but it depends on you which color you like most. Overall the Build Quality & Design department of this phone is outstanding.
Display
Talking about the display department of LAVA Blaze 2 5G, a 6.56-inch HD+ IPS LCD Display is given, which supports a 90Hz Refresh rate and contains 450nits peak brightness. The display size is medium, with an average size of top & side bezels and slightly bigger than the average size of the bottom chin. But that is negligible as it is a budget phone. One thing I like about this display is that it has a modern design and a fast 90Hz refresh rate which gives a smooth experience.
One major drawback I don't like is the HD+ resolution of the panel. Nowadays there are many phones launched under 10k price which are giving Full HD+ resolution but LAVA has still stuck to the HD+ panels. So LAVA should give a Full HD+ display at this price point. If I talk about the display quality then it is decent. It produces punchy colors, and the viewing angles are also decent. The brightness is enough for indoor usage and not for outdoor usage. In the moderate or harsh sunlight, nothing is visible on the screen.
Besides that, this display comes with the Widevine L3, so you can not see the videos in HD resolution on OTT platforms. I have checked YouTube, you can see the videos at a maximum 1440p resolution. Overall this is a modern-looking display but not suitable for consuming content like movies and YouTube videos.
Performance
Now coming to the thing for which this phone is made. LAVA has packed a very powerful MediaTek Dimensity 6020 5G Chipset, fabricated on a 7 nm-based architecture. The processor is further supported by 4/6GB of LPDDR4X RAM and 64/128GB of UFS 2.2 Storage. Normally at this price, some companies provide eMMC storage, but LAVA has managed to give UFS storage making read/write speed faster which results in faster app opening/closing. Moreover, the phone has a full-sized dedicated SIM Card Slot which means you can attach two SIM cards and one SD Card of up to 1TB Storage.
If we talk about the on-paper benchmarking scores, then in the AnTuTu test, this phone has gained approx. 4,15,000 scores which is very respectable. This type of score is generally seen in under 15K mobile phones, but LAVA has done it in under 10K, so that is very nice. In the Geekbench testing, the phone scored 732 points in Single-Core and 2058 points in Multi-Core Test, while in the CPU stability test, it has given a green graph and throttled up to 86% of its performance generating no throttle issue, so that is a plus point for this phone.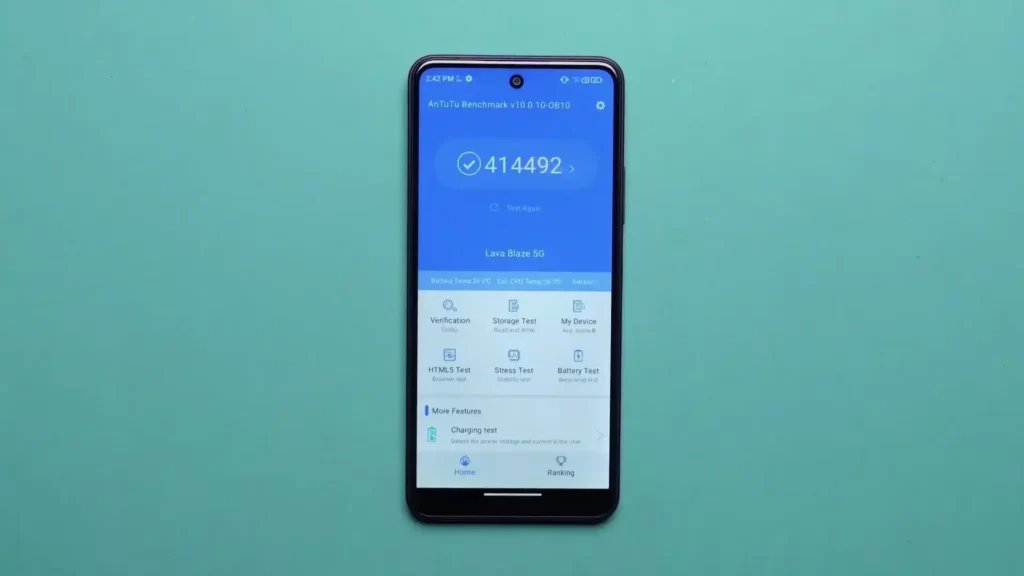 Coming to the real-life gaming performance we have played BGMI on it, the phone supports maximum gameplay at (Smooth, Ultra) and (HD, High) settings with 40fps. I haven't felt any lag or jitter while playing the game on (Smooth, Ultra) settings for 30mins and the phone only becomes minor warm, but on the (HD, High) settings I noticed some frame drops. If you want to play high-end games like Genshin Impact then definitely this phone suffers a little bit to handle it but if you want to play games like Free-Fire then it runs smoothly on the Max settings of the game.
So if you want a phone to do a little bit of heavy gaming or multitasking, this phone will handle it very smoothly without any issues. In my opinion, this is definitely one of the best gaming phones under the 10K price segment.
Battery & Charging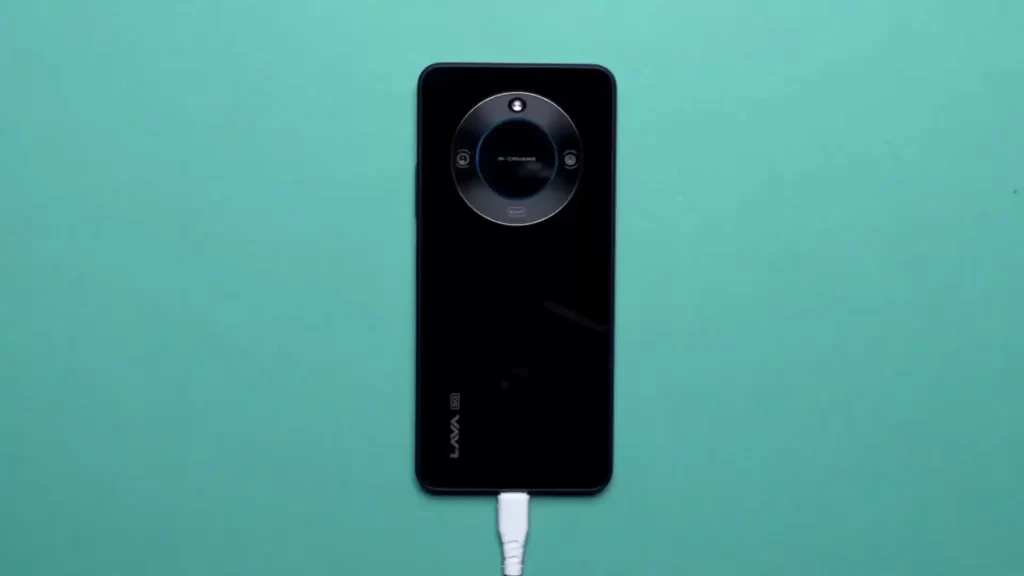 Reaching out to the battery department of this phone LAVA has packed a 5000mAh Battery with 18W Fast Charging Support. The charger takes time to fully charge the phone around 7-8 hours of Screen On Time on moderate usage and 4-5 hours of Screen On Time on heavy usage. The phone contains a 7 nm-based chipset, so the battery consumption becomes a little less and the phone runs for one and a half days in a real-life scenario.
Overall at this price, the 18W charge and 5000mAh battery are decent enough for fulfilling the requirements of a budget phone user. So the battery backup and charging department is very much sorted.
Camera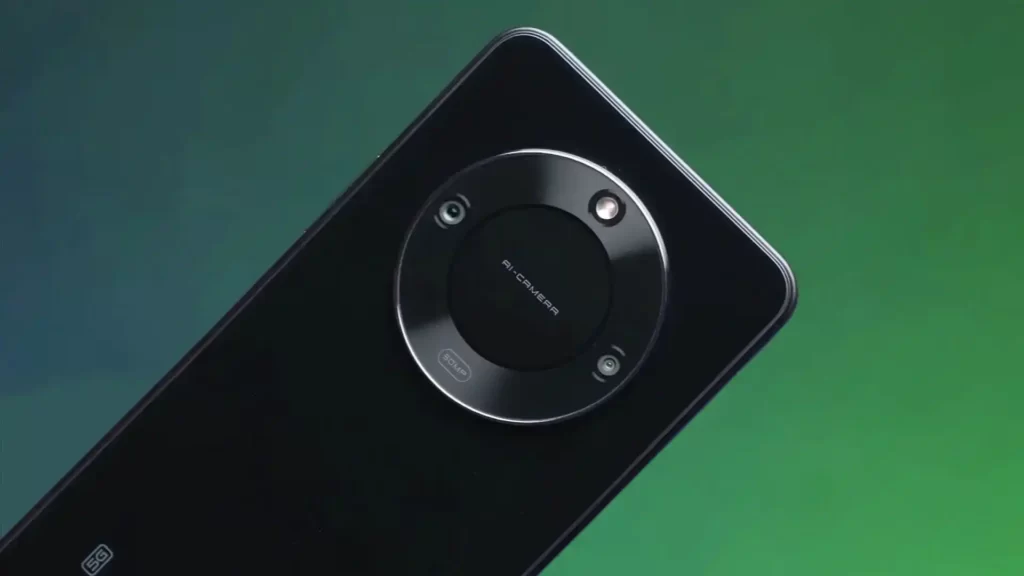 Before reviewing the camera of this phone, one thing I clearly mention you is that this is not a camera-centric phone so don't expect very high camera quality. The phone has a dual-camera setup of a 50MP primary sensor + VGA sensor on the rear and an 8MP selfie sensor on the front, but only a 50MP primary sensor and 8MP selfie sensor are usable.
The primary 50MP sensor comes with the f/1.8 aperture, which clicks very good photos in normal lighting conditions with decent sharpness. It captures the punchy and boosted colors of the surrounding objects making photos ready to use on social media. Besides, the 8MP selfie sensor also clicks good pictures in normal lighting conditions, and especially its portrait mode is very impressive in terms of edge detection.
If I talk about videography, surprisingly this phone can shoot up to 2K resolution at 30fps on the back and up to 1080p resolution at 30fps. In extra, you can also shoot slow-motion videos at 240fps and Night mode is also given only in rear cameras so that is good. In normal daylight situations, it shoots good videos with punchy colors, but in low or nightlight conditions, the photos and videos are not that good. And we can't expect it with any budget smartphone.
Other than the cameras performing well according to their price, if we talk about the camera app, it is very clean and feature reach. There are all the standard features like portrait mode, slow motion mode, night mode, pro mode, panorama mode, and timelapse mode. So if your focus is the camera, this is not the phone you are looking for. For the camera, I would suggest going with Samsung because the Samsung phone's camera quality is generally good. With this LAVA Blaze 2 5G phone, you can just fulfill the basic need of a camera.
Ring Light
Generally mid-range or high-end smartphones come with unique lighting designs but budget phones suffer just because of the lower price. And because of that, no budget phone comes with any interesting element in design but LAVA had added an interesting Ring Light on the back side. On the camera module, LAVA has given a Blue colored LED Ring light which has some functions.
That Ring Light can be used as an indicator for any notification, call, or charging status. The light will blink slowly when the notification comes, it will blink faster when any call comes, and the Ring light will ignite steadily when you put your phone on charge. In extra, you can also increase and decrease the brightness of the ring light in three phases Low, Medium, and High. So in this segment, no one gives a feature like this, and LAVA Blaze 2 gives it which is great.
Multimedia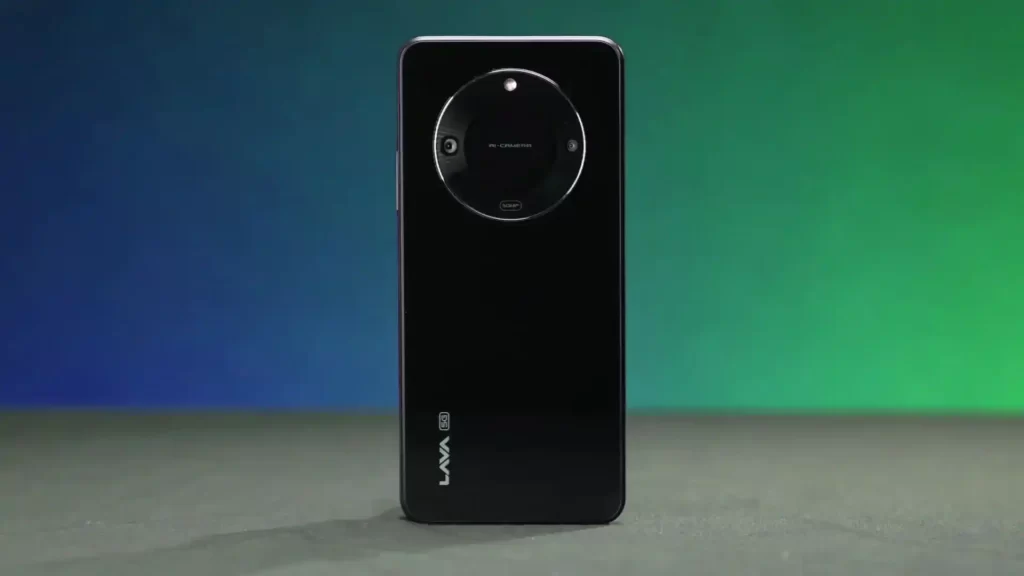 In terms of multimedia, the LAVA Blaze 2 5G phone gives a decent experience as there is a single down-firing speaker which is loud, and the quality is ok, considering the price. But the is of HD+ resolution and comes with Widevine L3 support, so the Video viewing experience will not be that much good. You will not be able to watch OTT platform (like Netflix, and Amazon Prime) videos in HD resolution. Other than that, this phone features a 3.5mm jack, allowing you to attach your wired earphones. Overall if you are looking for a phone for multimedia, in my opinion, this is not a perfect option for you.
OS & UI
This is the area where LAVA has done a very good job. If you are a fan of clean and Stock Android user experience then this phone will attract you. The phone runs on the latest Android 13 operating system and comes pre-installed with LAVA's own UI. The company has promised 1 year of major Android updates and 2 years of security updates which means you will get Android 14 out of the box. LAVA has given the Android 13 upgrade in its previous LAVA Blaze 5G smartphone which had the Android 12 so in terms of giving updates LAVA doesn't lose its promise.
Apart from that, if we talk about the user experience then it is mind-blowing. There are no bloatware and ads at all on the phone. Moreover, there a support for the LAVA's own stock dialer which ensures you record calls without giving any hint or message or announcement to the caller. The Side-mounted fingerprint scanner is also multi-functional which means you can assign that on clicking it receive the call or click the photo in the camera and one long press returns to the home screen. So that is there. Overall, these are small but very helpful features and In my view, in the OS & UI departments, LAVA as an Indian brand has done an excellent job.
Network & Connectivity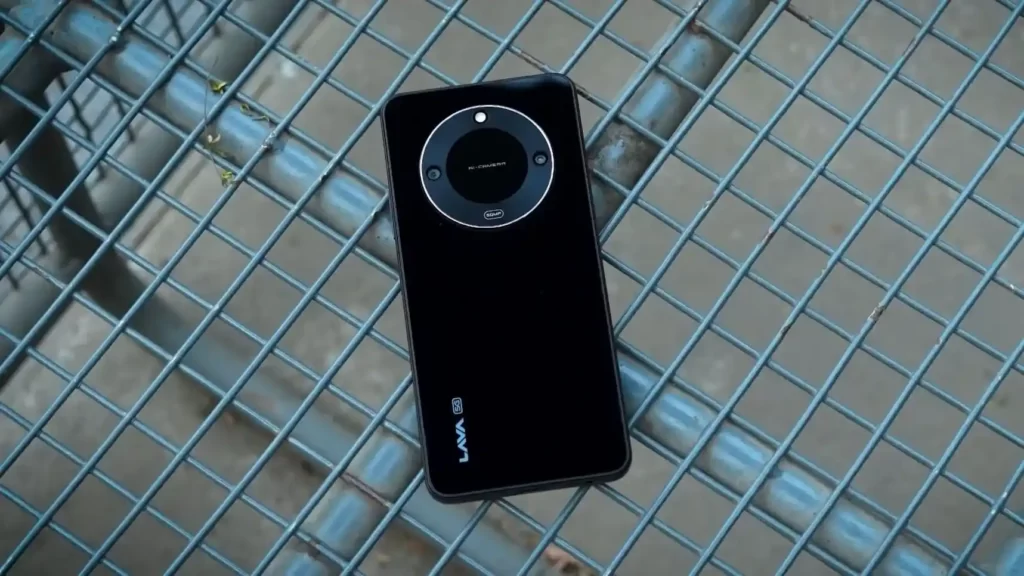 This is the area where the company has focused much more. Even though it is an under 10K budget segment phone, it comes with 5G Network support. Before this LAVA launched India's first cheapest 5G phone which was the LAVA Blaze 5G and this phone also comes with the same tag as the most affordable 5G phone in India. This phone supports 8 5G Bands, all needed in India, ensuring very good internet connectivity across India.
This phone is given a dedicated SIM Slot, which means you can insert 2 SIM Cards and 1 SD Card of up to 1TB. Other than that, Dual 4G VoLTE, WiFi Calling, Dual Band WiFi 5, and Bluetooth 5.1 support are given. So this phone's Network & Connectivity department is very strong.
Sensor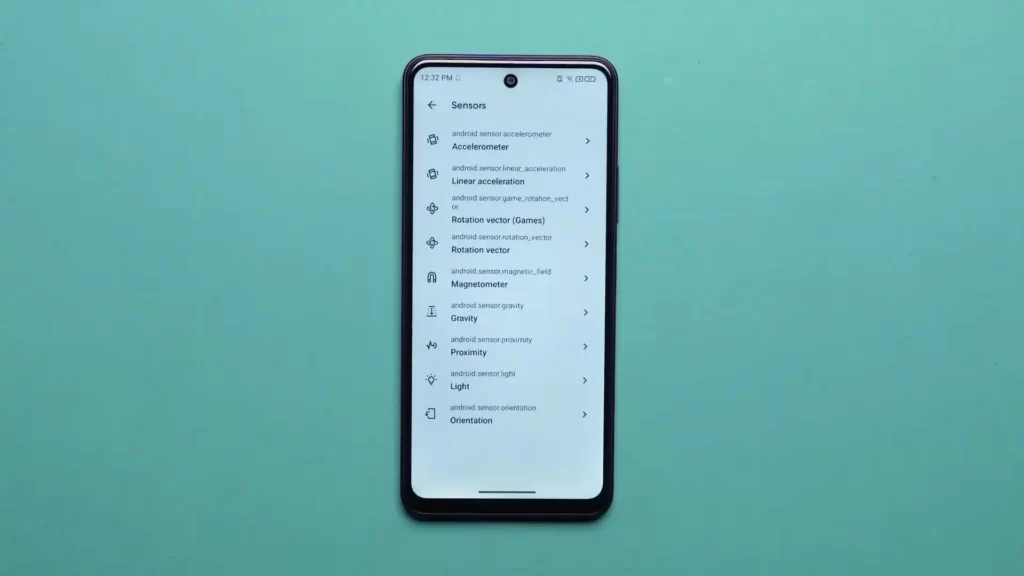 In this LAVA Blaze 2 5G, almost all required sensors are available, including a Side-Mounted Fingerprint Scanner, Accelerometer Sensor, Proximity Sensor, Ambient Light Sensor, Compass, SAR Sensor, and Magnetometer Sensor. One sensor that is missing is the Gyroscopic Sensor which should be there but other than that I have tested all the sensors, and they are working well.
Service
Everyone sees the specs and price of the phone but almost no one checks about the servicing of the brand. After-sale service is also a very crucial criteria to check while buying a mobile phone because if you buy a mobile phone and something goes wrong with it, the company service will help you to solve that issue. And if the after-sell service is not good, you may face many issues while repairing your phone.
So about the LAVA service, you will not have any trouble because they have offered you a free home service at your home. which means if you face any issue with your LAVA smartphone, you just simply contact the LAVA service and they will come to your home without any extra charge and they will repair your device in front of you. You just have to pay only the repair cost of your phone. This claim from an Indian brand LAVA is a very big thing because even big well-known smartphone companies are not giving this type of service with their very expensive devices and LAVA is giving with an under 10K budget phone.
One more thing we have noticed when we have tried LAVA's service is that if any part of your smartphone gets damaged and replaced then the cost of those new parts is more affordable than the other brand's parts. And their hardware is also of very good quality as till now we have not faced any single hardware failure in the smartphones. So in terms of after-sale servicing, you will get top-notch experience.
LAVA Blaze 2 5G Pros & Cons
| Pros | Cons |
| --- | --- |
| MediaTek Dimensity 6020 7nm 5G Chipset | HD+ Resolution Screen Rather Than FHD+ |
| Clean Stock Android User Expirience | The Camera Is Not Good Enough |
| Premium Glass Back Design | Single Down-Firing Speaker |
| Useful LED Ring Light For Notifications | No Noise Cancellation Microphone |
| IP52 rating | |
| 1 Year Major & 2 Years Security Updates | |
Also read: Most Detailed Mobile Buying Guide Of 2023
Conclusion
Now after going through this article if you get confused about for whom this phone is made? let me help you to summarise the things. According to me, if you are your priority is performance, gaming, normal day-to-day usage, heavy multitasking, premium design, and 5G high-speed connectivity, then this phone is the best option. But if your priority is the camera and display this phone might not be for you. You will not enjoy binge-watching on the OTT platforms because of the HD+ display and the unavailability of Widewine L1 certification. Other than that, this is a very respected 5G phone Under 10K from an Indian brand and is recommended to buy if your budget is around ₹10,000.
FAQs
Is LAVA Blaze 2 5G Worth Buying?
If you want a smartphone for Performance and Premium Design, the LAVA Blaze 2 5G is worth buying.
Is LAVA Blaze 2 5G Available Offline?
Yes, you can buy this LAVA Blaze 2 5G in your nearest offline store.
What Is The LAVA Blaze 2 5G price in India?
LAVA Blaze 2 5G comes in two variants, 4GB RAM + 64GB Storage which costs ₹9,999, and 6GB RAM + 128GB Storage which costs ₹10,999.
What Is The LAVA Blaze 2 5G Antutu Score?
LAVA Blaze 2 5G brings AnTuTu Score nearer to 4,15,000.
Does LAVA Blaze 2 5G Have Gorilla Glass?
No, LAVA Blaze 2 5G does not have Corning Gorilla Glass Protection.
Does LAVA Blaze 2 5G Have IP Ratings?
Yes, LAVA Blaze 2 5G comes with the IP52 dust and splash-resistant rating.
Web stories